GUWAHATI: India has overtaken the United States of America (USA) in terms of total number of COVID19 vaccine doses administered. On Sunday, India surpassed USA with its cumulative vaccination coverage crossing 32.36 crore.
USA had administered around 32.33 crore doses as on 28th June, 8 AM. The India vaccine drive started from 16th January, 2021, whereas, USA started it from 14th December 2020.
The new phase of COVID19 vaccination-to-all started from 21st June and as of 28th June, India had administered a total of 32,36,63,297 doses.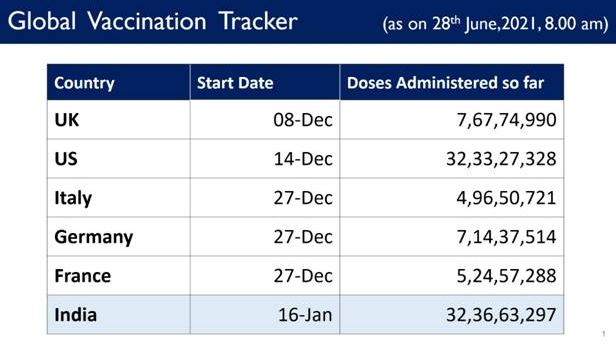 Due to the sustained and collaborative efforts by the Centre and the State/UTS, the country has reported less than 1 lakh daily news cases for 21 continuous days. India reported 46,148 new cases in past 24 hours.