GUWAHATI: The Gauhati University today, came up with a Press Release where the University has clarified its stand on conducting exams, as well as the teaching-learning process amid surge in COVID-19 cases in Assam.
An urgent meeting was held at the P. D. Seminal Hall of the University under the Chairmanship of Prof. Pratap Jyoti Handique, Vice-Chancellor of the University along with the President and Secretary of Gauhati University Teacher's Association along with all the Department Heads, the Registrar and the Controller of Examination.
In view of the ensuing examinations ensuring the safety and security of the students, the meeting took into consideration the available feasibility and relevant positions of the regulatory authorities in detail and came up with certain decisions.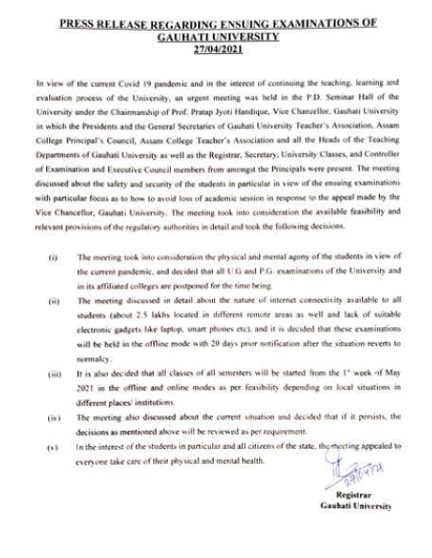 The varsity in the release stated, "Discussed in detail about the Nature of Internet connectivity available to all Students (about 2.5 lakhs Located in different remote Area as well as lack of suitable Electronic Gadgets like Laptop, Smart Phones, etc), it is decided that these Examinations will be in the offline mode with 20 days prior Notification after the situation reverts to Normalcy."