GUWAHATI: Elon Musk-led super fast internet service Starlink is now available in India for pre-orders for $99(almost Rs.7,264.12 INR) . The Starlink internet will be available in India in 2022 through Musk's SpaceX satellites that will be launched in orbit.
Tesla and SpaceX CEO, Elon Musk aims to provide cheaper internet services for millions in remote areas across the world including India.
"Starlink is available to a limited number of users per coverage area at this time. Orders will be fulfilled on a first-come, first-served basis," the Starlink website stated.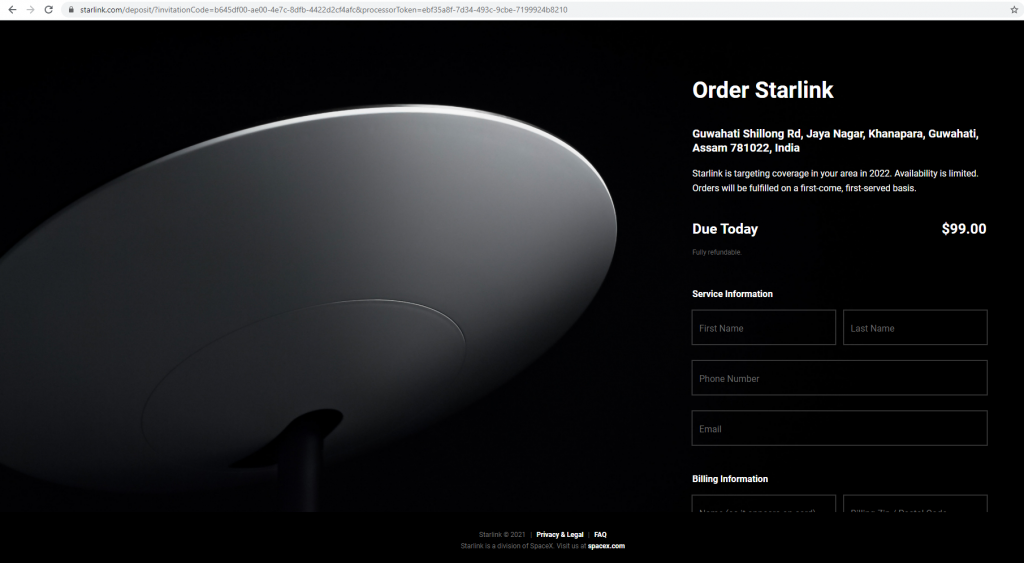 Users can visit the Starlink website to place their bookings for high-speed internet.
Earlier, Elon Musk had said that the speed of its space-based Starlink internet service will double to 300Mbps this year from 50 to 150Mbps.
It is to be mentioned that the company plans to deliver high-speed Internet through a network of about 12,000 satellites. It has already put over 1,000 of its Starlink satellites in orbit.
High-speed, low latency broadband internet.
Starlink is now delivering initial beta service both domestically and internationally and will continue expansion to near-global coverage of the populated world in 2021.
During the beta service, users can expect to see data speeds vary from 50Mb/s to 150Mb/s and latency from 20ms to 40ms in most locations over the next several months as we enhance the Starlink system. There will also be brief periods of no connectivity at all.
As we launch more satellites, install more ground stations and improve our networking software, data speed, latency and uptime will improve dramatically.
Easy to set up.
The Starlink Kit arrives with everything you need to get online including your Starlink, Wi-Fi router, power supply, cables and mounting tripod.
Starlink requires a clear view of the sky to connect. Download the Starlink App to determine your best install location.
Low latency = video calls & online gaming
Latency is the time it takes to send data from one point to the next. When satellites are far from Earth, latency is high, resulting in poor performance for activities like video calls and online gaming.
Starlink satellites are over 60 times closer to Earth than traditional satellites, resulting in lower latency and the ability to support services typically not possible with traditional satellite internet.
Ideal for rural + remote communities
Starlink is ideally suited for areas of the globe where connectivity has typically been a challenge. Unbounded by traditional ground infrastructure, Starlink can deliver high-speed broadband internet to locations where access has been unreliable or completely unavailable.

Preserving the night sky
The Starlink teams have worked closely with leading astronomers around the world to better understand the specifics of their observations and engineering changes we can make to reduce satellite brightness.