The first COVID19 wave did come, but Assam ensured it remained on the shores and did not enter the mainland and spread in the community
GUWAHATI: On the first week of March 2020, the state of Assam was busy talking about an American tourist who tested COVID19 positive in neighbouring Bhutan. Incidentally, the female companion of the tourist had no infection and finally showed the symptoms only on the 14th day.
The news created panic within Assam as the tourist had travelled widely from Guwahati to many parts of the state and might have spread the infection. It was the initial news on COVID19, and places where the tourist visited were put on quarantine. In Guwahati, the whole floor of a five star hotel was sealed. The river cruise ship Mahabahu anchored near Nimatighat in Jorhat district and everyone inside were put on a 14-day quarantine as the American tourist had stayed on it for a few days.
Assam Health Minister Himanta Biswa Sarma immediately started on his mission to save Assam and the spread of Coronavirus within the northeast. Medical colleges in Assam weren't ready and doctors and health workers were not aware of the protocols and practices of fighting COVID19 in real life. All information was only in the news media and the Internet.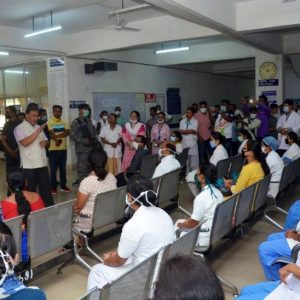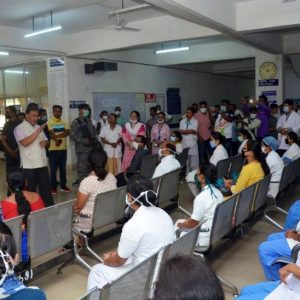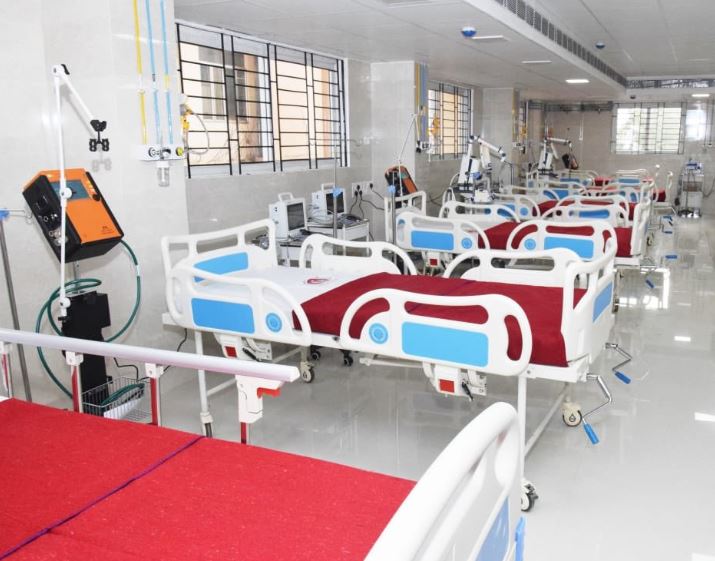 The state health department had no testing facilities except the ICMR Regional Medical Research Centre, located 10km east of Dibrugarh in Lahowal. Initial throat swabs and other samples were sent to National Institute of Virology, Pune for final confirmation. Then slowly, one after the other, Medical Colleges were readied to get the testing done here. Each process is a story in itself.
By that time, COVID19 had struck Europe and paralysed Italy and Spain, slowly spreading to Germany and England. The whole of Europe was in a panic mode as the rate of spread was very fast and the figures every day were disheartening. The medical facilities in Italy collapsed for some time. Videos of patients outside hospitals started circulating and it raised alarm here in India and in Assam as well.
The Assam health department had slowly started its planning to fight the COVID19 and the fast execution was spearheaded by the health minister himself. Initially, it was moving from one medical college to the other, getting inputs, providing directions and assessing the facilities. The number of medical departments those could be included in the fight against COVID19 and so on and so forth. Everything was on media, just like a reality show. As cases started flowing in bigger cities like Delhi, Mumbai and Pune, we knew that Assam had no chance, given the infrastructure and preparedness. But the health minister had something else in his mind – stop the first wave somehow, anyhow. And even if it landed, contain it to a large extent. Then get ready for the second wave.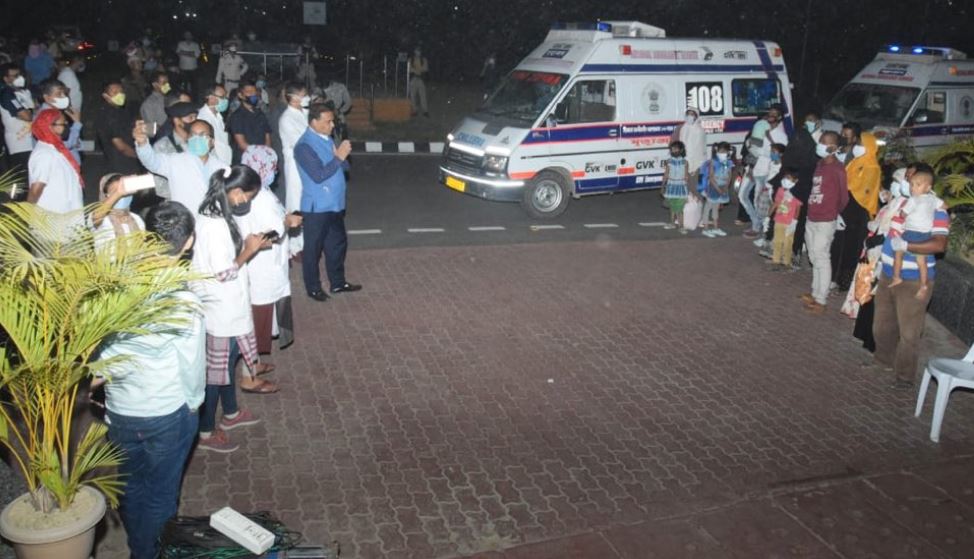 The first steps were to immediately get all the seven medical colleges ready to face the COVID19 onslaught when it arrives. Assam is fast building its medical infrastructure and the plan is to get a medical college and hospital in each district. The latest one to get included in the fold is the Diphu Medical College in hill district of Karbi Anglong. It was formally inaugurated on 25th of March, right in the middle of a global pandemic knocking at our doors. One can understand the amount of pressure such a new institution might have to face if things got worse.
Once the medical colleges were on the same plane as the health minister they were freed of regular day to day operations of handling and attending patients. This task was shifted to private hospitals and nursing homes. Only the most essential departments and a few major illnesses were to be handled. Rest of the hospital was to be converted into a COVID19-fighting war machine. The term war stands valid as the preparations took on war footing with full commitment from all health workers. Second, was the announcement of final year students who were to be trained to handle COVID19 patients. A training session was already underway before the minister could even announce it to the media – it was that fast. Next, was to rope in former doctors who had retired or were no more enrolled with government projects. A pool was created and doctors who had expertise and years of experience came forward to help. "I had requests from senior retired doctors who were willing to work as paramedics, if necessary," stated GMCH Superintendent Dr. Ramen Talukdar on a TV show. These retired, experienced doctors knew the amount of damage the disease could do to Assam and were willing to fight even though data suggested that COVID19 was bad for the elderly.
Everything was to be done simultaneously as the Assam health department had no luxury of time. It had to get extra ventilators, get ICUs ready and importantly, procure more PPEs (Personal Protection Equipment), N95 masks and triple layered masks. Himanta Biswa Sarma had mentioned that there were only 10 PPEs in GMCH on 16th of March. Assam was yet to witness a COVID19 positive case and there was already a strong supply and demand mismatch. On 13th April, Sarma stated comfortably that the state had a total of 85,582 PPE kits and the department was targeting 2 lakh PPE kits – that's another story for some other day.
From 16th of March, the Assam health department team went into a round the clock mode. During a press conference Himanta Biswa Sarma revealed how the health secretary and NHM director were spending sleepless nights just to get an extra ventilator in place or get more PPE. GMCH saw 50 ICU beds added taking the total number from 75 to 162 in a week's time. Similarly, ICU beds were added in all District Civil Hospitals and other government hospitals. There was no rest for anyone. The frequent press announcements in television kept us hooked to the preparedness, and, the amount of effort and commitment of the health workers was there for all to see.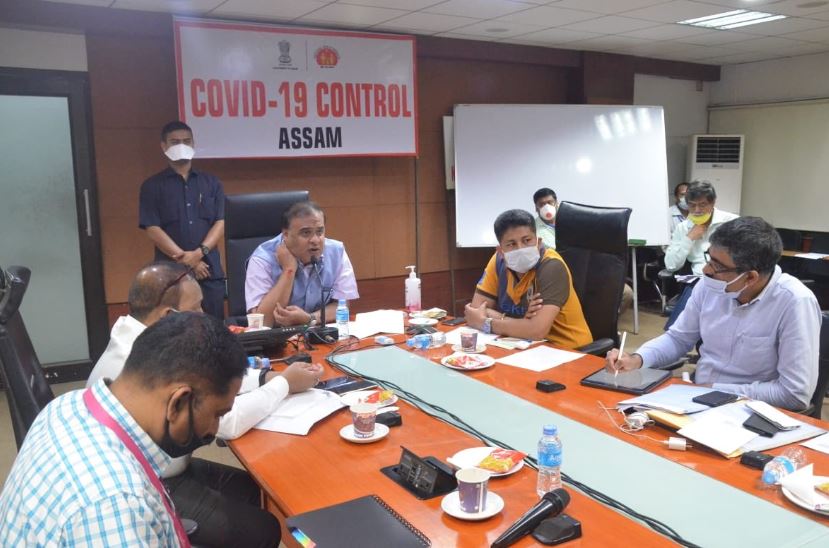 By the end of third week and beginning of last week of March around 75 thousand residents of the state who were engaged, working and studying in other states like Goa, Kerala, Delhi started reaching Guwahati through flights and trains. One train with 2000 Assam residents from Kerala, that had high rate of COVID19 infection, arrived in Guwahati on 20th March. The state had already started the screening process and airports were on high alert. The health department ensured that these 75 thousand spent the next 14 days in isolation or quarantine. Forms were filled and people were marked with stamps. Junior health workers from National Health Mission and government appointed persons were on duty to find anyone who had fever and other symptoms related to COVID19.
On 21st March, the first case was announced from Jorhat Medical College and Hospital where a 4-year girl child tested positive for Coronavirus. This little girl had recently come back from Jharkhand in a train with her mother. The test came negative when report came back from the RMRC at Lahowal. So, Assam was yet to see a COVID19 patient.
Incidentally, on 21st March, Himanta Biswa Sarma visited Jorhat Airport at Rowriah and took stock of the medical arrangements. Sarma had inspected the screening process and all the precautions undertaken at the Jorhat airport. Only five days had passed since the health minister went on a relay race that would continue for another 30 days, maybe more.
The first news that gave jitters to everyone in Assam was of a Tablighi Jamaat meet held in Nizamuddin Markaz, New Delhi during the second and third week of March. It had attendees from Assam and many of them had returned back home. As news spread that the attendees of this meet had contracted COVID19, another time-bound race started to get the locations of those from Assam who attended it and the people who came in contact with them. Was it the first wave hitting Assam? Yes, it was the first wave. By that time the 700-bedded quarantine facility at Sarusajai Stadium was almost ready. Other such facilities had been strategically readied in many parts of Assam.
Like many other states of India, the Nizamuddin Markaz meet gave the first COVID19 case to Assam, a 52-year-old at the Silchar Medical College and Hospital in Barak Valley, it was 31st March. After that, mostly in the evenings and late at night, the twitter and the facebook handle of the health minister had an alert message on someone testing positive for COVID19. All of them related to the Markaz event. Cases mostly connected to Markaz event came from places like Dhubri, Golaghat, Goalpara, Hailakandi, Silchar. In Assam, the number of COVID19 positive cases stood at 31 till the filing of this report with one isolated case (non-Markaz) transferred from neighbouring state of Nagaland to GMCH on 12th April.
The only exception for Assam was on 3rd April, when a local resident of Guwahati with no Markaz connection tested positive. This was like a bomb going off in the middle of the city. As the treatment started in GMCH his travel history revealed that the patient had come back from New Delhi on the 1st of March and showed symptoms on the last week of March. The probability was he might have contracted the virus from someone who was carrying it and showed no symptoms. There was no way of finding out how he got it. Anyone who was found to be in close contact of this person was put on quarantine.
The second week of April saw the death of one of the patients from Hailakandi who died on Friday, 10th April. Faijul Haque Barbhuyan breathed his last at Silchar Medical College and Hospital and became the first COVID19 casualty in Assam. He was admitted on 7th April at SMCH.
The first 21-day lock down announced by Prime Minister Narendra Modi on 24th March ended on 14th April. It seems the lockdown has worked massively in favour of Assam and the Northeast. There should be no complaint against it as the infection rate in Assam is nearly zero if we exclude the Markaz attendees. From 9th April around 75,000 Assam residents who had returned from other parts of India completed their 14 days of isolation and quarantine. No, cases have been reported till this report was filed. They will be released in a phased manner and the health workers and other government agencies will be freed for other duties. That's a big relief for Team Assam.
The stupendous task that the Assam health department and other departments have in hand and who, till today, have performed in such a synchronisation that Assam indeed has managed to restrict the first COVID19 wave. The coming seven days are crucial as last minute news of a small congregation at a local masjid in Guwahati with Tablighi Jamaat attendees and others has come to light. Though all the possible contact persons have been identified and put under isolation or quarantine, by 20th April, the picture would be much clearer. Of now, Assam has truly emerged as a state that has fought well and contained the spread of COVID19 through many multiple efforts that can't all be written here.