Guwahati: Chennai Super Kings (CSK) pacer Deepak Chahar proposed to his girlfriend after an IPL match. The match was played against Punjab Kings (PBKS) in the Indian Premier League (IPL).
Chahar had an off day in the office as he conceded 48 runs in his portion of four overs. However, he stepped into the stand after the game and proposed to his girlfriend, Jaya Bharadwaj.
She said 'YES,' and loud applause from the crowd greeted the happy couple after she accepted the ring. As per sources, Deepak has introduced Jaya to the entire Indian team. The adorable couple will soon tie the knot.
Jaya is former Bigg Boss participant Sidharth Bhardwaj's sister. She hails from Delhi and works with a corporate company.
Deepak announced his engagement on social media. He posted, "Picture says it all. Need all your blessings #taken."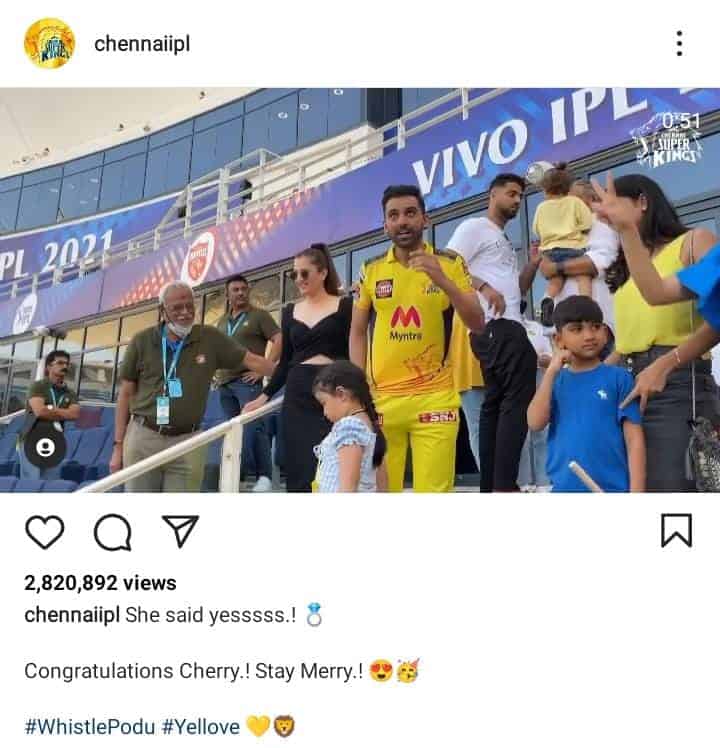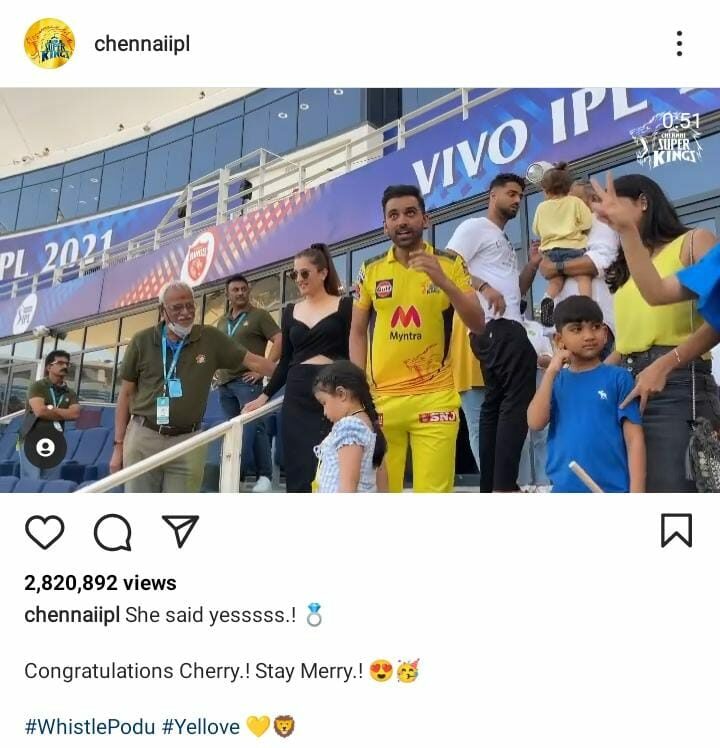 IPL team CSK also uploaded a video of the proposal on their social media handle. The post captioned, "She said yesssss.! Congratulations Cherry.! Stay Merry.!"
Chennai Super Kings were among the first teams to qualify for the IPL 2021 playoffs, with Delhi Capitals and Royals Challengers Bangalore too reserved their spots.
Chahar has been among the best players for the Chennai Super Kings in IPL 2021 so far. He leads the bowls to strike with tremendous effectiveness, continuously troubled batters in the powerplay.
Before their last match against Punjab, Chahar said to Nikhil Chopra throughout the official broadcast that he changed his technique after last season.
"I took the experience from last year when we performed in the UAE. So I understood what line and range I had to bowl. There is some guidance for the bowlers on this Dubai pitch matched to last year. Dubai and Abu Dhabi have been more moderate surfaces. So if you bowl in the best spaces, you will get the results. I worked on my bowling throughout the offseason," Chahar stated.