GUWAHATI: Around 48,698 fresh COVID-19 infections were reported in the last 24 hours, informed the Union Health Ministry on Saturday.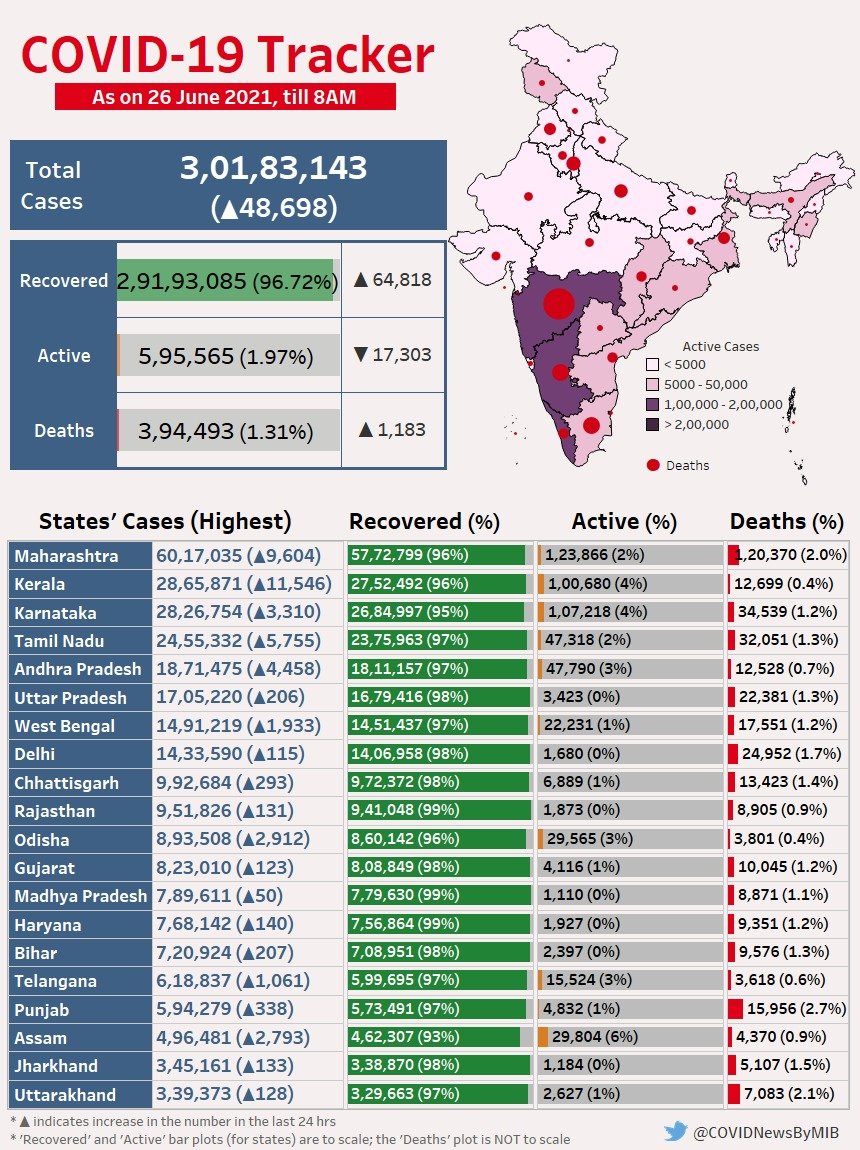 The daily positivity rate stands at 2.79 per cent, which is less than 5 per cent for 19 consecutive days.

The active caseload further declines at 5.95 lakh. The weekly positivity rate drops to less than 5 per cent, currently at 2.97 per cent.

It is to be mentioned that more than 61 lakh(61,19,169) vaccine does have been administered in the last 24 hours.
"#IndiaFightsCorona: 𝑴𝒐𝒓𝒆 𝒕𝒉𝒂𝒏 61 𝒍𝒂𝒌𝒉 (61,19,169) 𝒗𝒂𝒄𝒄𝒊𝒏𝒆 𝒅𝒐𝒔𝒆𝒔 𝒂𝒅𝒎𝒊𝒏𝒊𝒔𝒕𝒆𝒓𝒆𝒅 𝒊𝒏 𝒕𝒉𝒆 𝒍𝒂𝒔𝒕 24 𝒉𝒐𝒖𝒓𝒔. Together we can win the battle against #COVID19. #We4Vaccine #LargestVaccinationDrive #Unite2FightCorona," Tweeted COVIDNewsByMIB.
📍𝑴𝒐𝒓𝒆 𝒕𝒉𝒂𝒏 61 𝒍𝒂𝒌𝒉 (61,19,169) 𝒗𝒂𝒄𝒄𝒊𝒏𝒆 𝒅𝒐𝒔𝒆𝒔 𝒂𝒅𝒎𝒊𝒏𝒊𝒔𝒕𝒆𝒓𝒆𝒅 𝒊𝒏 𝒕𝒉𝒆 𝒍𝒂𝒔𝒕 24 𝒉𝒐𝒖𝒓𝒔.

➡️Together we can win the battle against #COVID19.#We4Vaccine#LargestVaccinationDrive#Unite2FightCorona pic.twitter.com/xItPAwxG93

— #IndiaFightsCorona (@COVIDNewsByMIB) June 26, 2021
📍#COVID19 UPDATE (As on 26th June, 2021)

✅48,698 daily new cases in last 24 hours

✅Daily positivity rate at 2.79%, less than 5% for 19 consecutive days#Unite2FightCorona #StaySafe

1/4 pic.twitter.com/0sWPP6nymv

— #IndiaFightsCorona (@COVIDNewsByMIB) June 26, 2021
📍#COVID19 India Tracker
(As on 26th June, 2021, 08:00 AM)

➡️Confirmed cases: 3,01,83,143
➡️Recovered: 2,91,93,085 (96.72%)👍
➡️Active cases: 5,95,565 (1.97%)
➡️Deaths: 3,94,493 (1.31%)#IndiaFightsCorona#Unite2FightCorona#StaySafe @MoHFW_INDIA pic.twitter.com/qNOjSPDfrE

— #IndiaFightsCorona (@COVIDNewsByMIB) June 26, 2021
✅Active caseload further declines at 5.95 lakh

✅Weekly positivity rate drops to less than 5%, currently at 2.97%#Unite2FightCorona #StayHomeStaySafe

3/4 pic.twitter.com/z5erXLPlbl

— #IndiaFightsCorona (@COVIDNewsByMIB) June 26, 2021