GUWAHATI: The Assam Government on Saturday in the presence of Union Finance Minister Nirmala Sitharaman distributed Rs 3000 each to 7,46,667 tea workers under 'Chah Bagicha Dhan Puraskar Mela' held at Assam Veterinary Complex playground in Khanapara, Guwahati. A total of 7,46,667 tea workers received Rs.3000 each as the third tranche of Direct Benefit Transfer (DBT).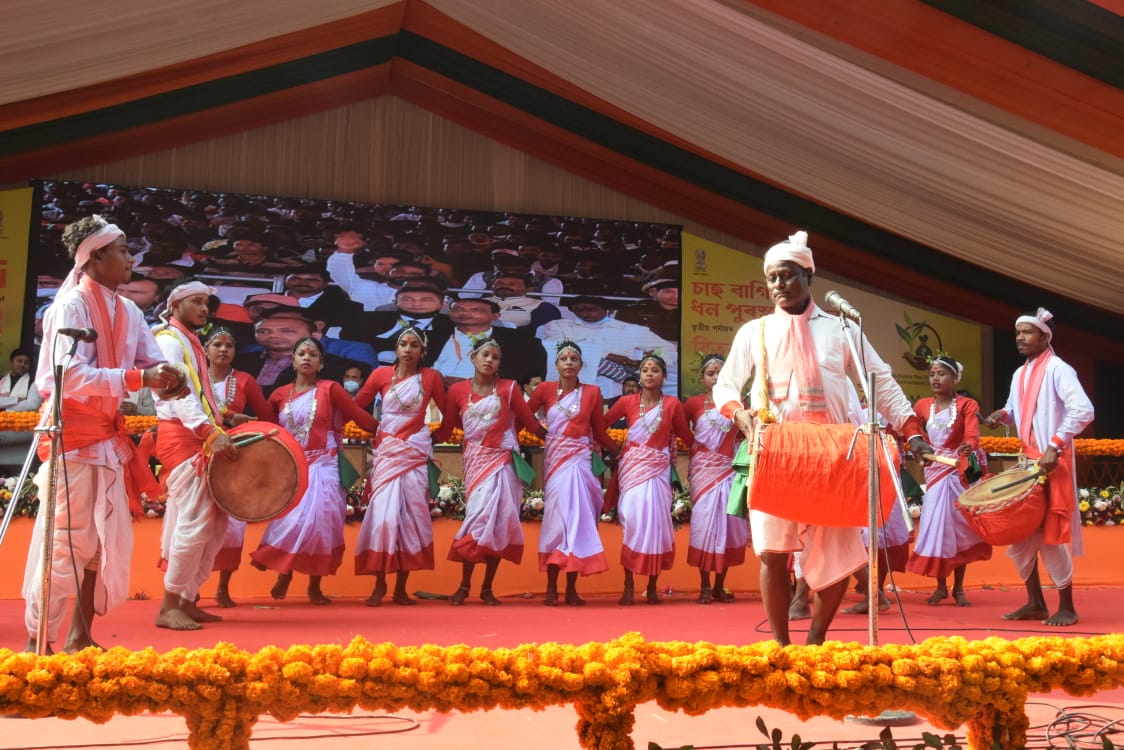 Assam chief minister Sarbananda Sonowal, Finance Minister Dr. Himanta Biswa Sarma, Union Minister of State for Food Processing Industries Rameshwar Teli, Minister of State for Labour and Tea Tribes Welfare Sanjay Kishan, Rajya Sabha, Member of Parliament(MP) Kamakhya Prasad Tasa and other dignitaries were present at the ceremonial distribution event.
The Chief Minister called for Aatma Nirbhar Assam, "Our tea garden people who earlier didn't have Bank accounts. We discussed the issue and immediately opened over 8 lakh bank accounts. We will have to work hard and make Assam one of the top states. We will have to make Assam Aatma Nirbhar."
Assam Health, Finance and Education Minister Dr. Himanta Biswa Sarma speaking at the ceremonial distribution event of the third phase of the 'Chah Bagicha Dhan Puraskar Mela' announced many welfare initiatives for the tea tribe in the state.
Dr. Sarma assured the workers that the Assam government will soon increase the tea garden workers' wages from Rs 167 to Rs 351.
He further said that the government would make sure that the children of each tea garden worker have access to education and financial assistance. Dr. Sarma said, "There were only LP and ME schools in the tea gardens but from May 1, the newly-built High schools in 199 tea gardens of Assam will start operations. The Assam government has also reserved seats for the tea garden students in medical and engineering colleges across Assam. Also, 10% seats will be reserved at all colleges located near the tea gardens for tea garden students, and in schools, breakfast will be served to the children of the community in addition to mid-day meal."
Also, the government has spent Rs 1,400 crore in building roads in tea gardens and within the next two years each and every road in the tea gardens of Assam will be made pucca, the minister said.
Related Stories: