At least 22 people were killed, while nearly 60 others were injured in a mass shooting incident in Lewiston, Maine, in the United States, Fox News reported. The incident happened late on Wednesday (US local time).
The Androscoggin County Sheriff's Office posted two photographs of the suspect, holding a rifle in the firing position, on Facebook, saying he was at large, news agency Reuters reported.
Video shows people running on the streets as a gunman opened fire in Lewiston, Maine.
Later, the suspect in the mass shooting incident was identified as Robert Card, a firearms instructor in the US Army Reserve who was recently discharged from a mental health facility after reporting hallucinations.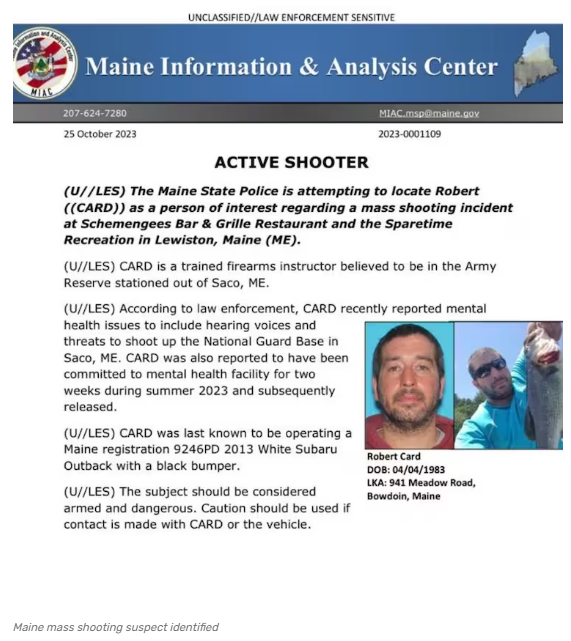 Meanwhile, Maine State Police said, in a Facebook post said that there is an active shooting situation in Lewiston, a city of 36,000, 35 miles north of Portland. "Please stay off the roads to allow emergency responders access to the hospitals," police said.
On its website, Central Maine Medical Center said staff were "reacting to a mass casualty, mass shooter event" and were coordinating with area hospitals to take in patients. "We are encouraging all businesses to lock down and or close while we investigate," the sheriff's office reported.
A spokesperson for Maine Department of Public Safety urged residents to stay in their homes with their doors locked. "Law enforcement is currently investigating at two locations right now," Shannon Moss said. "Again please stay off the streets and allow law enforcement to diffuse the situation."
Earlier, a gunman opened fire on July 3, killing four people and injuring two others in Philadelphia. According to the police, the perpetrator was wearing a bulletproof vest and was arrested later.
(With inputs from agencies)