Guwahati: As the Ukraine-Russia conflict escalates, students from India are stuck in the country, and around 100 students from Assam are also stuck in trouble hit Ukraine, informed state chief minister Dr. Himanta Biswa Sarma on Thursday. Many of them were pursuing medical studies in Ukraine.
As the Ukraine-Russia conflict escalates, students from India including those from Assam remained stuck in the country. Though India government tried to evacuate Indian nationals mainly students, the scheduled special flight was cancelled on Thursday as Ukraine government closed its airspace.
CM Sarma said, "We are in touch with the students residing in Ukraine. We shared our concerned with the Ministry of External Affairs (MEA) and asked for utmost security to all those from Assam also. Whenever Embassy decides to airlift Indian nationals, students from Assam will also be lifted."
The MEA has been holding a series of high-level meetings to put into operation alternative contingency plans as the Ukrainian airspace closed, amid war like situation. Indian Embassy in Kyviv has also opened helpline numbers for Indian nationals to reach out to the authorities.
According to estimates, over 15,000 Indians are currently staying in Ukraine.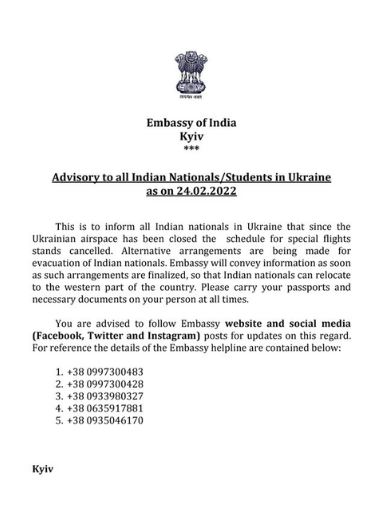 Moreover, about 20,000 Indian students are pursuing higher education mostly in medical, dental and nursing courses in Ukrainian universities, reports say.
On Tuesday night, February 22, around 200 Indian students returned from Ukraine. They had to shell out money as the tickets got expensive after Indian Embassy asked its citizens to leave the
country.
Meanwhile, the Embassy of India has issued an advisory for Indians in Ukraine.
The situation in Ukraine deteriorated after Russian President Vladimir Putin announced a military operation in Ukraine, triggering serious concerns over the possibility of a full-scale military confrontation between the two countries.