Tokyo: Five-time women world boxing champion Mary Kom and men's hockey captain Manpreet Singh led the Indian contingent at the Opening Ceremony of Tokyo Olympics.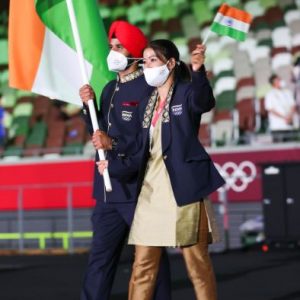 A total of twenty-five members were present from the Indian contingent at the Japan National Stadium in Tokyo.
The Olympic Games were declared open on Friday with fireworks at the Japan National Stadium.
The 2020 Summer Olympics is currently being held from 23 July to 8 August 2021 in Tokyo, Japan, with some preliminary events beginning on 21 July. 
The number of Nations participating this time is 205 (+ EOR team). There will be 11,326 athletes competing in 339 events in 33 sports of 50 disciplines.
The 2020 Games will see the introduction of new competitions including 3×3 basketball and freestyle BMX, and the return of madison cycling, baseball and softball.