Ritual Bath or Spiritual bath is a unique kind of bathing ritual that helps you cleanse your mind body and spirit.
Ritual baths require you to be present and mindful, involving specific elements like salts, crystals, herbs, oils, and more to enhance the bath with psychic power to manifest things like love, abundance, success and more.
Here we are sharing the recipe of magical bath salt to encourage your inner urge to manifest the love your heart has been yearning for all these years. This is just what we need to boost the forces of love, romance, and compassion in your life this Valentines to enhance the forces of love, romance, and compassion in your life.

Ingredients
Dried Flowers
Red/Pink Roses
Red roses for married
Pink roses for unmarried
3 cups Epsom Salt
1.5 cups CoarseSea salt
1/2 cup baking soda
20 drops of Rose Essential oils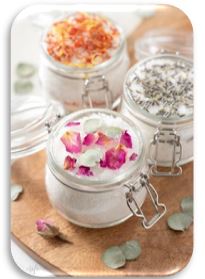 Herbs-(optional)
Lavender
Basil
Rose Quartz
Clear Quartz
Carnelian
Amethyst
Add all the ingredients in a large glass bowl,mix using a spatula and transfer the mixture into a clean glass jar
Caution: Do not store in plastic bags or containers.
How to use?
Draw a warm bath. Add the bath salt mixture into the bath right before getting in.
You can light pink/red candles and play a soothing music to enhance your mood.
Before your get into the water say a small prayer setting out your intensions loud and clear to the universe.
You can also do peaceful energy visualizations, and imagine the tub filling with pink light of love.
Relax,heal and enjoy.
Visit our website to get your unique intension salt kits.
Tarot Reader IERAA
Location: Guwahati, Gurugram
WhatsApp: 9650 617 979
Book appointment on website: https://www.thevimoksha.com
Instagram: https://www.instagram.com/tarotreaderieraa/
YouTube: https://www.youtube.com/tarotreaderieraa
Facebook: https://www.facebook.com/tarotreaderieraa/
Google: https://g.page/r/CdsjBRcQtb0dEAE