GUWAHATI, Jan 17: Swimmer Shivangi Sharma became the toast of sports lovers in Assam after she won the gold medal in the Girls' (U-21) 200 metres freestyle event at the ongoing 3rd Khelo India Youth Games in Guwahati today.
Shivangi's gold is the seventh for the host State.
Bhavika Dugar of Tamil Nadu took the silver while Jasmine Gurung of Haryana won the bronze in the event.
On the other hand, Rajashree Buragohain added a bronze to Assam's overall medal kitty in Girls' (U-21) 100 metres breaststroke.
Meanwhile, the hosts won two silver medals in weightlifting on the eighth day of the competition today. While Prabal Pratim Gogoi came second in the Boys' (U-17) 55 kg-weight event, Gitashree Sonowal claimed silver in Girls' (U-21) 49 kg event.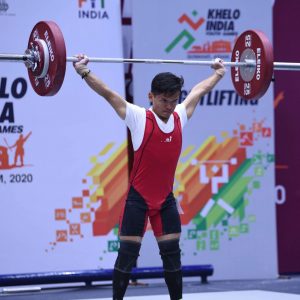 The Assam Girls' (U-21) football team trounced Delhi 4-1 to enter the semi-finals.
Assam is currently in the 14th place in the medal tally with seven golds, 10 silvers and 13 bronze medals.
Maharashtra lead the standings with 38 golds, 41 silvers and 63 bronze while Haryana is second with 34 golds, 34 silvers and 36 bronze medals. Delhi is third in the list having won 22 golds, 16 silvers and 30 bronze medals.
(Story published at 4 PM, updated story to follow)