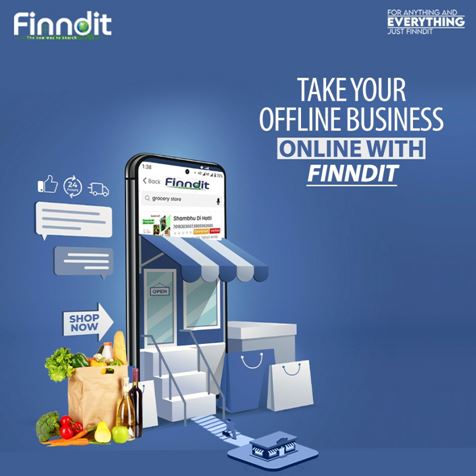 Finndit is a modern local search engine that acts as a platform for the MSMEs and other local vendors to advertise and display their products and services. It was established in 2020 and already has over 45 business categories and 1,900 sub-categories. In the last couple of years, businesses have realised the relevance of going digital with their operations. They have accepted the fact that the potential customers are online and that is where they need to be targeted in order to advertise new products or services. Hence, Finndit is one such platform that anyone can use in order to establish and boost the presence of their company on the internet.
How to get listed on Finndit?
Getting your business listed on Finndit is as simple as creating an email-id. You just need to visit the Finndit website and click on 'Get Started'. Thereafter, you could follow a simple wizard that will ask you for the basic details related to the business like category and the type of products you wish to sell. That's all. Your basic account is created and you get access to a large audience from every part of the country. Make sure to put the details of your business so that there are no confusions and people are willing to buy from you.
If you wish to take things a notch higher, you can opt for a verified tag on your listing. You might have seen verified tags with various accounts across numerous platforms online. Your business can also become eligible for that. Such tags create a sense of trust among the potential buyers and they are more likely to transact with you. After creating your account, you could directly contact the service team of Finndit. Alternatively, they could also get in touch with you for the same. Updating your free listing into a premium listing has multifold benefits.
Services Offered by Finndit
Finndit not only lists your business online, but also provides valuable digital marketing tools to enhance the reach of your business. This includes creating professional mini-websites and pages that could be used to represent your products and services to approach potential customers, contact details like working hours, phone, email, location, etc., portfolio design, review management, extensive support in SEO and lead generation, photo and video shoots, digital flyers, brochures, campaign designing, e-cards, and much more. All these tools are designed to lend total support for the web presence of the company.
Benefits of Finndit
Finndit offers a plethora of benefits for the users as well as businesses. The user can search for any business, store or shop on the Finndit platform and there will be the list of shops with their details in a click of a mouse button. Hence, a huge convenience is offered to the customer. On the other hand, the business will get enhanced digital presence via local search engine listing and digital marketing. Additionally, utilising the services of Finndit will ensure a high lead and traffic generation, increasing brand awareness and reputation, high ranking on google and more.