GUWAHATI: Kamrup(M) district administration has withdrawn the containment zone order from Haryana Bhawan in Guwahati on Monday as no further case has been detected since the declaration of containment zone in the area.
The official order stated, "As no further COVID-19 Positive cases has been detected since declaration of CONTAINMENT ZONE covering the area of Haryana, Guwahati declared vide this office's order no. NO.DDMA-K(M) 03/ 2020/230; Dated:18/05/2020, hence following the instructions contained in the COVID-19 guidelines on Containment Zones issued by the Ministry of Health & Family Welfare, Government of India, the CONTAINMENT ZONE declared covering the said area is hereby withdrawn w.e.f, today, i.e 1st June'2020.
However, the residents of the area have been advised to follow all the protocols for preventing COVID-19 strictly.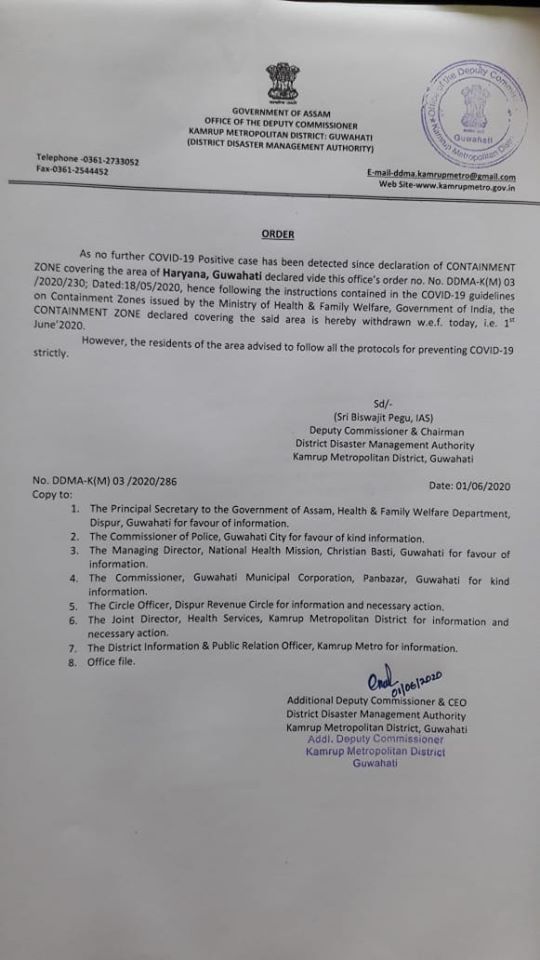 It is to be mentioned that on Sunday, the containment zone tags were removed from Fatasil Tinali and Fancy Bazar areas of Guwahati.