Guwahati: 48 Assam Naval Unit NCC under GRP HQ Guwahati conducted Social Service and Community Development (SSCD) activities on Friday launched by Honorable Prime Minister, NCC units comprising of Officers, PI Staff and Cadets are participating and contributing their best in promoting development of their towards society or needy peoples.
This time with the support of Alumni Association of Guwahati Group NCC, We selected Parijat Academy, founded by Mr. Uttam Teron in 2003, for this event at Parijat Academy's premises at Garchuk, Pamohi, towards Deepor beel, Guwahati.
The event was started by Abhisekh Gupta, Spoke Person of Alumni Association Guwahati Group in presence of Danda Pani Gouda (Chief Advisor) and Dipak Chetry (President).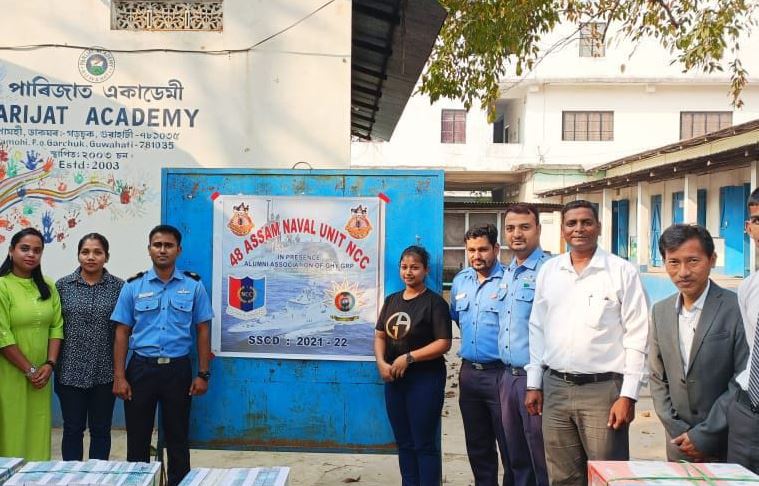 Gitanjali Roy (Treasurer) and some executive members also from Alumni Association of Guwahati Group NCC and he shared about today's various activities, NCC and his experiences about Alumni Association of Ghy Grp also to the present cadets and rest of the students of Parijat Academy. Staff officer 48 Assam NU NC Devesh Kr Singh HA III, PI Staff Aman Anand, Petty Officer and Harphool Singh, L Log(Mat) also interacted with media and shared his thoughts and experiences. And after that students were provide with refreshments and study material as well as water purifiers and COVID kits for Academy.
 Along with students our cadets also participated in dance and song activities.