GUWAHATI: Nitin Khade, Chief Electoral Officer, Assam flagged off three tableaus at Latasil Playground, Guwahati, on Monday(15 March) under SVEEP, to create awareness for greater participation of voters in the ensuing Assembly Election.

Posted by Chief Electoral Officer, Assam on Monday, 15 March 2021
"Nitin Khade, Chief Electoral Officer, Assam stressed wider participation of electors in the ensuing Assembly Election process. Towards this end, a series of steps are taken under SVEEP (Systematic Voters' Education and Electoral Participation). He flagged off 3 Tableaus this afternoon at Latasil playground, Guwahati, with specially designed visual displays and live performances which will traverse all the 50 Election Districts of Assam, appealing the voters to exercise their right to vote.
While interacting with the media after the flag off ceremony, he elaborated upon the various measures the Chief Electoral Officer's office has taken under the instruction of ECI, in general and especially in the areas where voter turnout was low during last elections. He said that support from print-electronic and social media and launching of various initiatives like- State Icon, Mascot, Theme Song, Street plays, cycle rallies and many other avenues are explored to achieve this goal to make the polling process, "a festival of democracy". He thanked all for their support so far and hoped that these tableaus will contribute towards improving voters' turnout this time," stated in an offical release issed by Chief Electoral Officer, Assam.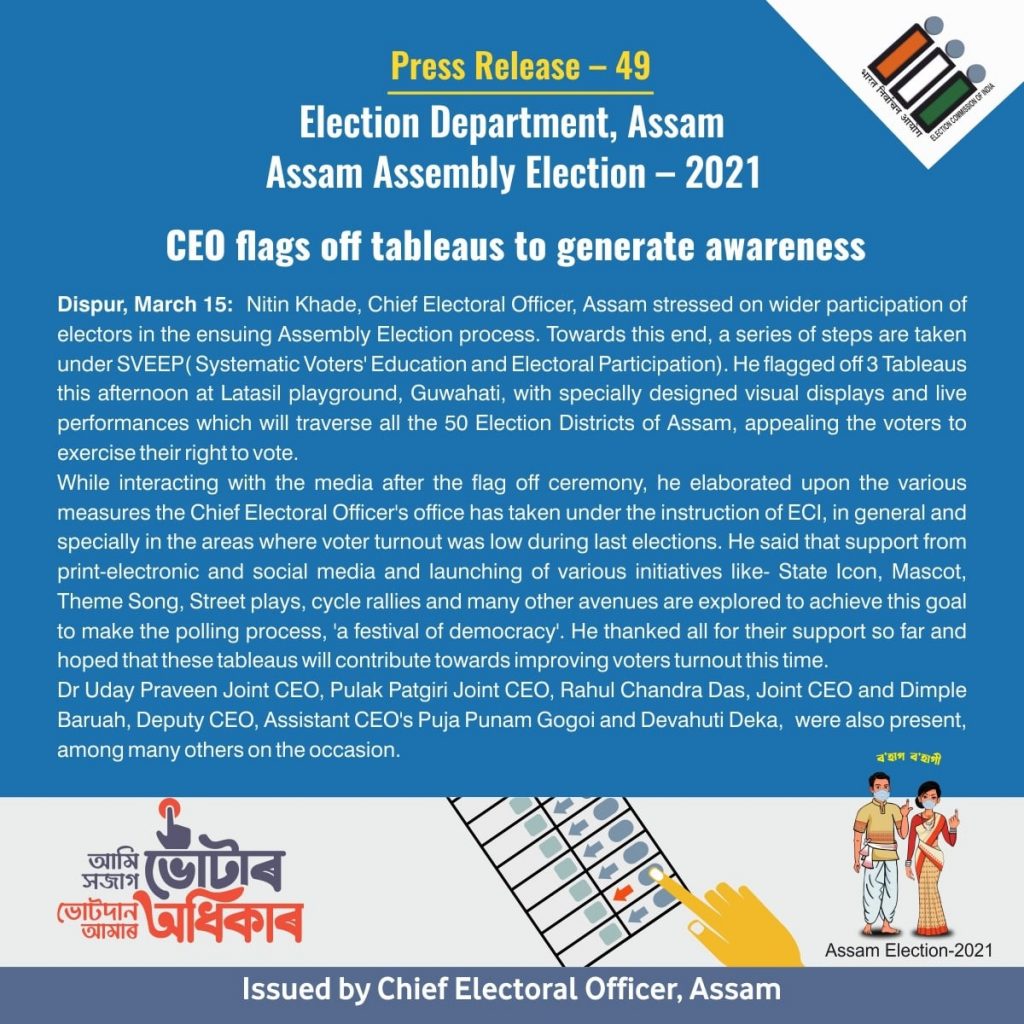 Dr Uday Praveen Joint CEO, Pulak Patgiri Joint CEO, Rahul Chandra Das, Joint CEO and Dimple Baruah, Deputy CEO, Assistant CEOs Puja Punam Gogoi and Devahuti Deka, were also present  on the occasion.