Guwahati: International Yoga Day celebrations were observed across the Northeast region. In Assam, a grand event was held today at Dibrugarh which was participated by Chief Minister Himanta Biswa Sarma.
The event was also attended by health minister Keshav Mahanta and culture minister Bimal Bora among others.
Moreover, the event saw CM Sarma participate in a mass yoga exercise along with the large gathering on the occasion.
Addressing the event, the Assam CM talked about the benefits of yoga and how it can bring in a positive change into the lives of people.
Meanwhile, Arunachal Pradesh Chief Minister Pema Khandu also observed the occasion of International Yoga Day today.
CM Khandu took part in the yoga day celebrations at his hometown Tawang at an altitude of 10,000 feet.  Khandu joined the mega Yoga at Advance Landing Ground near Tawang War Memorial which was joined by Army, para-military forces and the public.
Earlier, Chief Minister Pema Khandu was joined by monks of the Tawang monastery.
On the other hand, Manipur Chief Minister N Biren Singh also celebrated the 8th International Yoga Day in Manipur.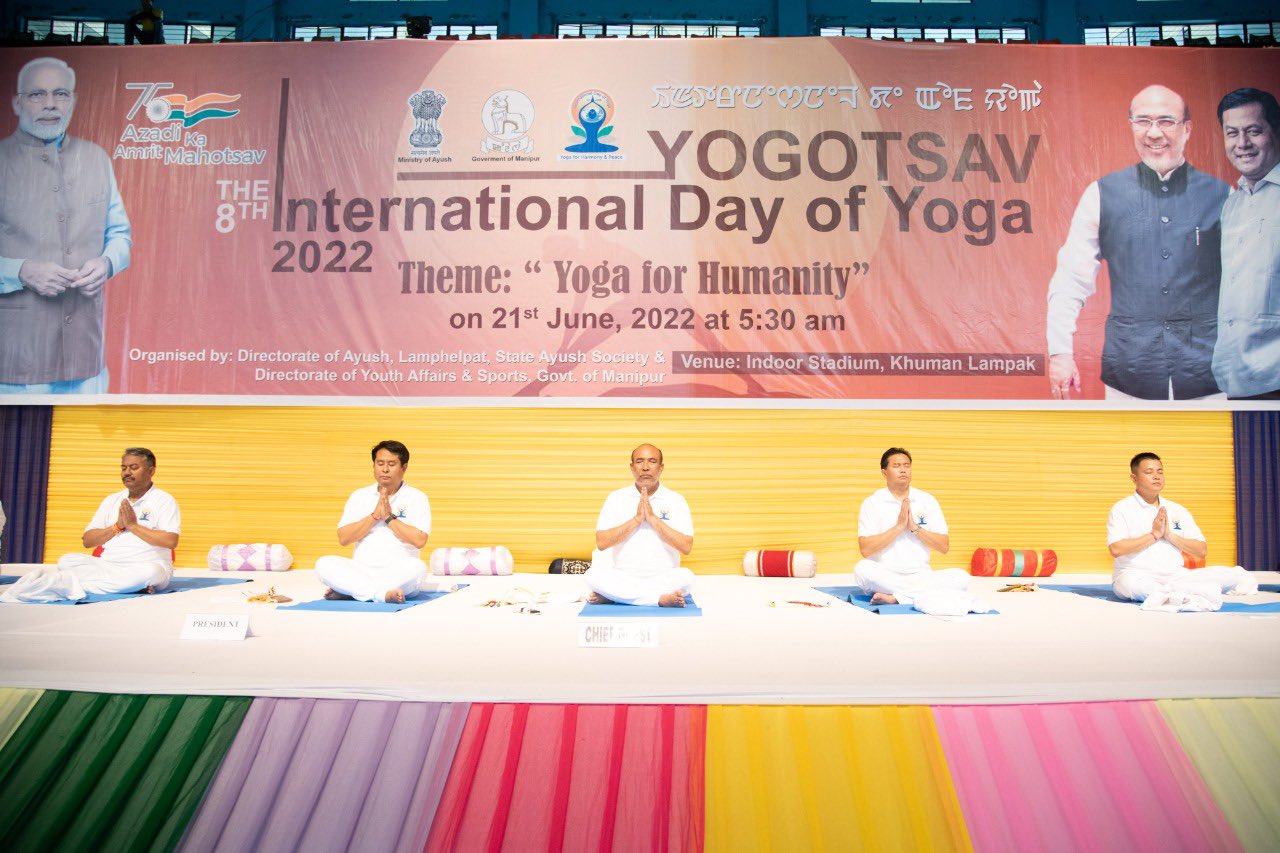 International yoga day was also observed in Mizoram. Governor Jari Babu Kambhaampati and lady governor Jayasree Kambhampati joined the special programme at the Raj Bhawan in Aizawl on the occasion.
On the occasion, the Mizoram Governor extended his warm wishes to the people of the state and called upon all people to practice yoga daily.
The International Day of Yoga has been celebrated annually on June 21 since 2015, following its inception in the United Nations General Assembly in 2014. Yoga is a physical, mental, and spiritual practice that originated in India.
People around the world embraced yoga to stay healthy and rejuvenated and to fight social isolation and depression during the pandemic.
Yoga is also playing a significant role in the psycho-social care and rehabilitation of COVID-19 patients in quarantine and isolation. It is particularly helpful in allaying their fears and anxiety.