Guwahati: Riteish Deshmukh and Genelia D'Souza are celebrating their 9th wedding anniversary today. The couple was in a relationship for almost a decade before they tied the knot.
Riteish Deshmukh and Genelia D'Souza are one of the most adorable couple not only in Bollywood, not just in the entire Indian entertainment industry, and not even just in all of global cinema, but they are also easily among the most heartwarming, beautiful couple both from within and outside by any standard be it among celebrities or every day, common folk.
It was in 2002 when a 16-year-old Genelia D'Souza met Riteish Deshmukh, Maharashtra's then-Chief Minister, late Shri Vilas Rao Deshmukh's son. Genelia was with her mom at the Hyderabad airport before the test shoot of Tujhe Meri Kasam and at that time, she met Riteish who came to the airport to meet them. Genelia shared that she thought since Riteish was the Chief Minister's son, he would be a spoilt brat. 
But it was only after they spoke to each other that Genelia realised that he was a nice person. She shared that the actor was very respectful towards her parents and elders and found it "endearing." The couple began working with each other on the sets of the movie and soon became really close friends. From discussing architecture to exams and college, they spoke about everything under the sun. 
Riteish once said that after coming back from the Hyderabad shoot, he started missing Genelia. The couple gradually fell in love and entered into a hush-hush relationship. It was after nine years of courtship that the two finally tied the knot on February 3, 2012. The couple, who is celebrating their 9th wedding anniversary today, had a Maharashtrian wedding along with a church wedding, as per the customs and traditions of the families. 
After their wedding, the duo often shared posts about their relationship and did not shy away from some social media PDA. Riteish and Genelia have two sons – Rahyl and Riaan.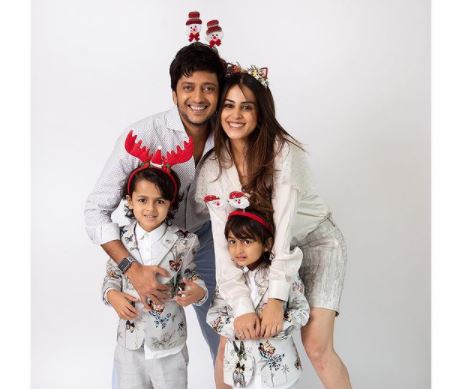 Dishing out some more relationship goals, the duo have posted video on Genelia D'Souza's official Instagram handle on the occasion of their ninth wedding anniversary, and it's cute as a button. Captioning the video and wishing husband Riteish Deshmukh, Genelia aptly wrote: "You don't find love, it finds you; It's got a little bit to do with destiny, fate, what's written in the stars and a lot to do with special kind of you. There is no me without you.. I'm totally madly, crazy in love you. Happy Anniversary Love." 
View this post on Instagram