GUWAHATI: The total number of recovered COVID-19 patients in Assam reached 1,08,329 with the discharge of 2,628 more patients on Friday. 
" Discharge Alert 2628 patients discharged today. So many patients recovering & getting discharged everyday keeps our confidence intact. I request people to stay hopeful.
Total Discharged Patients: 108329
Active Patients: 29577 10:20 PM/Sept 11

," stated health minister Dr. Himanta Biswa Sarma on Twitter.
Meanwhile, 16 patients succumbed to the infection taking the total death toll to 430.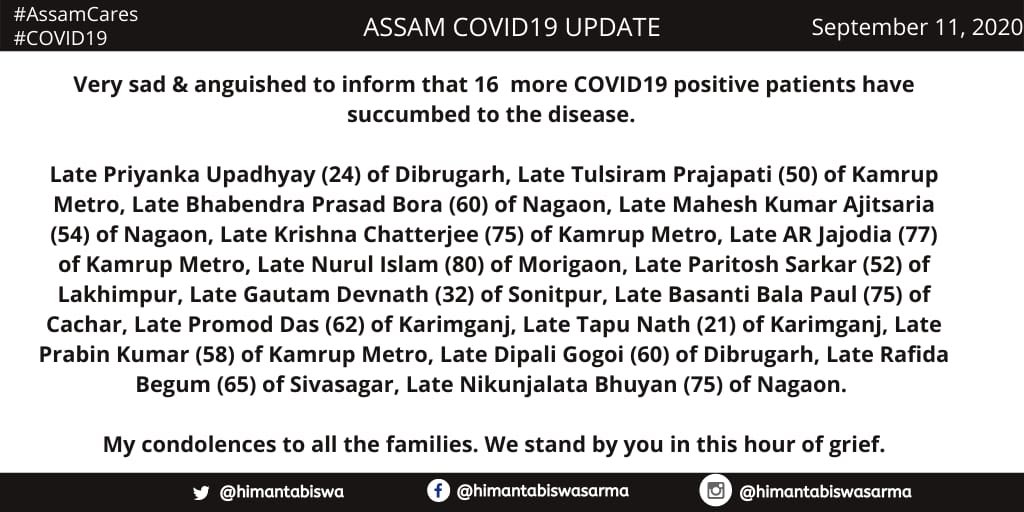 The deceased have been identified as Late Priyanka Upadhyay (24) of Dibrugarh, Late Tulsiram Prajapati (50) of Kamrup Metro, Late Bhabendra Prasad Bora (60) of Nagaon, Late Mahesh Kumar Ajitsaria (54) of Nagaon, Late Krishna Chatterjee (75) of Kamrup Metro, Late AR Jajodia (77) of Kamrup Metro, Late Nurul Islam (80) of Morigaon, Late Paritosh Sarkar (52) of Lakhimpur, Late Gautam Devnath (32) of Sonitpur, Late Basanti Bala Paul (75) of Cachar, Late Promod Das (62) of Karimganj, Late Tapu Nath (21) of Karimganj, Late Prabin Kumar (58) of Kamrup Metro, Late Dipali Gogoi (60) of Dibrugarh, Late Rafida Begum (65) of Sivasagar, Late Nikunjalata Bhuyan (75) of Nagaon.
"I send my deepest condolences and prayers to all bereaved families. Om Shanti," Sarma tweeted.