The "big relief" for the Aam Aadmi after Indian Oil Corporation Limited (IOCL), in its website, updated a massive slash in petrol and diesel rates was short lived.  IOCL, in a major faux pass, had updated about a 59-paise cut in petrol and a 63-paise reduction in diesel prices per litre for today (May 30) only to correct it later implying that rates were reduced by only a paisa after 16 days of hike in prices.
#FLASH : After faux pass, Indian Oil revises fuel prices. #Petrol, #diesel prices reduced by only 1 paisa and not 60 paise. #Petrol price in #Guwahati today (May 30) is Rs 80.65/litre while a litre of #diesel to cost Rs 72.36.

Source : https://t.co/7YICNsB474 pic.twitter.com/j0hym65toT

— NEWS LIVE (@NewsLiveGhy) May 30, 2018
IOCL had in the morning updated fuel (petrol and diesel) rates, announcing a 59-paisa slash in petrol while cutting diesel prices by 63 paise for every litre bringing about some cheers for consumers. However, the joys were short-lived after the public sector oil giant corrected fuel rates meaning that petrol and diesel prices were slashed by only a paisa each and not by 60-odd paise.
Petrol price in Guwahati today is Rs 80.65/litre while people will have to pay Rs 72.36 for every litre of diesel today. Prices, IOCL say, may vary from outlet to outlet in a particular place.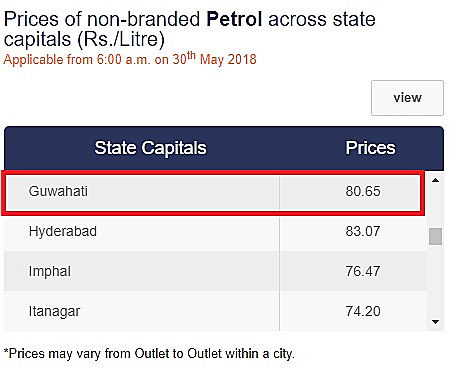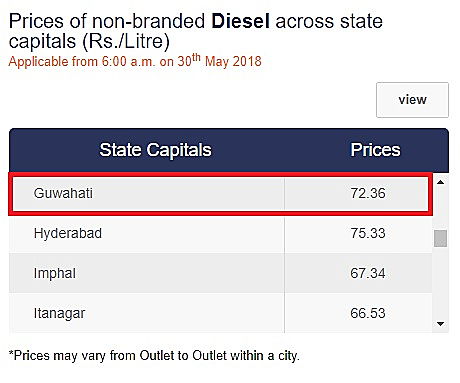 Rising fuel prices have led to protests across the country with a conglomerate of transport unions calling for a Bharat Bandh today to protest the 16-day non-stop increase in petrol and diesel prices.