Guwahati: The authorities at the Dibrugarh University (DU) have rusticated as many as 18 students for their role in ragging which led the first-semester student to jump off from the hostel building.
Anand Sharma, an M. Com 1st semester student and a resident of PNGB hostel was tortured and beaten up by some students of the University. Unable to bear the inhuman torture, Anand had jumped from the second floor of the hostel on Saturday night. He is battling for his life in ICU.
So far, the Assam police have arrested three students of the university in the ragging case identified as Simanta Hazarika, Niranjan Thak and Pranjit Baruah.
Meanwhile, the main accused identified as Rahul Chetri is still at large.
In a notice passed by Dibrugarh University, it has been mentioned that the institution has rusticated a total of 22 students including the three arrested accused.
The rustication notice read, "In pursuance of the recommendation of the Anti Ragging Committee (ARC) in its meeting held on 18/11/2022 and 21/11/2022 November 2022 and considering the Clause 7 B (vi) of 'Dibrugarh University Regulations for Prohibiting Ragging and Anti-Ragging Measures (as amended upto date), the following students and boarders of this University are hereby 'Expulsion from the hostel' with immediate effect for having been found to be involved in ragging under Clause 6 of the 'Dibrugarh University Regulations for Prohibiting Ragging and Anti-Ragging Measures (as amended upto date) at Padmanath Gohain Baruah Chatra Nivas (PNGBCN), Dibrugarh University campus. Considering the same they shall cease to be students of Dibrugarh University with immediate effect."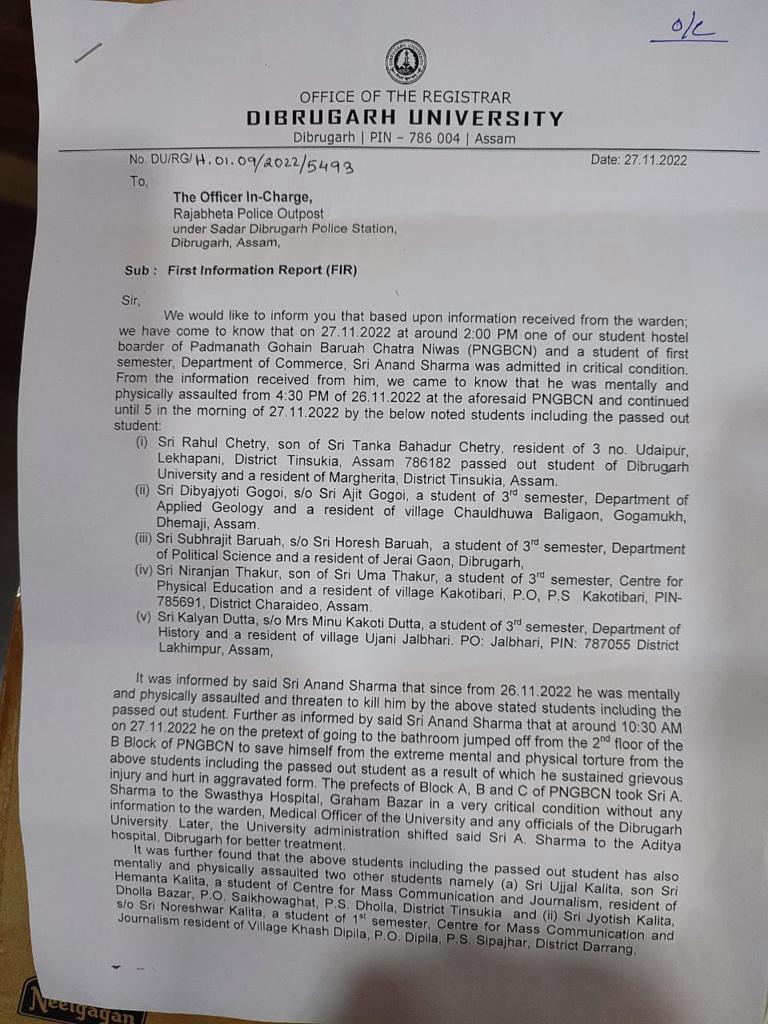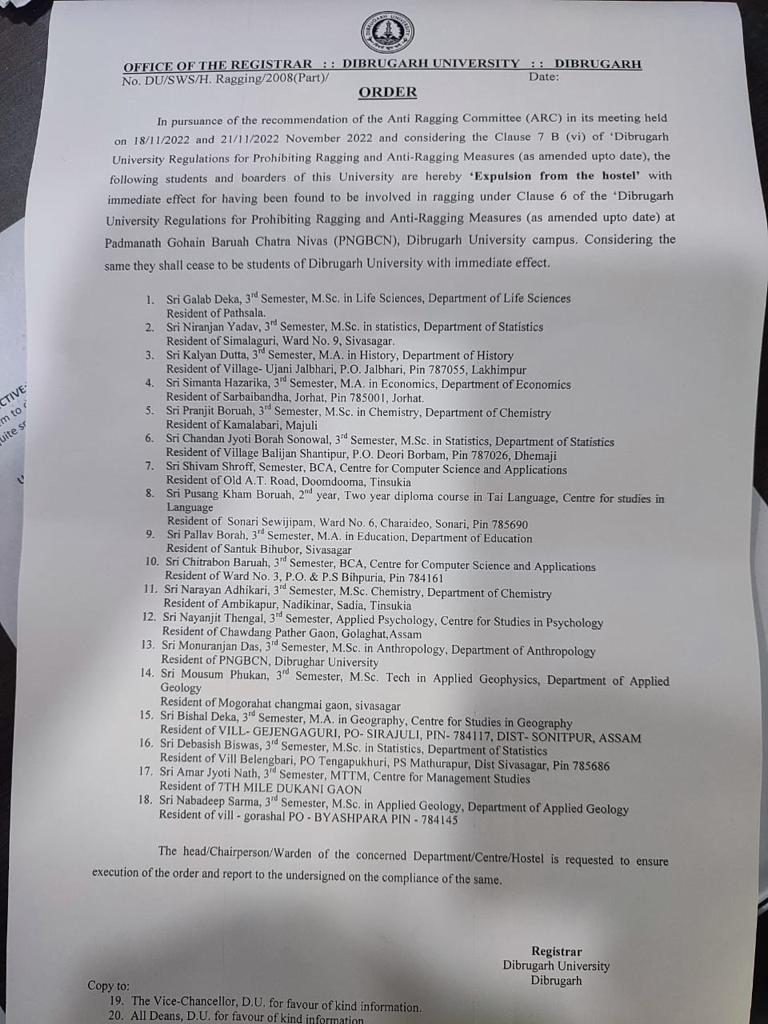 What is shocking and reflects the complete inaction of the University's authorities and the hostel warden is the fact that Anand had given a written complaint to the warden on November 17 but no action was taken and he continued to be humiliated and tortured.
Assam Education Minister Ranoj Pegu while condemning the incident said the Government will not tolerate such activities in educational institutions.
He also said that he has asked the Dibrugarh University authority and Police to take strict action against the culprits.
"I have further asked university authorities to be vigilant and have ordered Universities not to allow ex-students to stay in hostels after their courses are over," he added.
On the other hand, students at Dibrugarh University staged massive protests demanding Justice for Anand Sharma.
The meeting of the disciplinary action committee and an anti-ragging squad of Dibrugarh University is underway.
The University, one of the leading universities of Assam, is being slammed and criticised for its inaction with regard to the ragging of an M Com 1st semester student in one of its hostels (PNGB hostel).
Meanwhile, the family has lodged a case against the culprits and an FIR has been registered at Dibrugarh Police station.
Dr Jiten Hazarika, Vice Chancellor, Dibrugarh University had said that the authorities were investigating and enquiring about the matter and will take strong action against the culprits.